Two University of Connecticut CLAS students have been awarded a Critical Language Scholarship (CLS) for intensive overseas language study. The CLS is a highly competitive program sponsored by the U.S. Department of State which reviews more than 5,000 applications and awards approximately 600 scholarships to study and master critical foreign languages. Participants are expected to continue their language study beyond the scholarship period and to later apply their critical language skills in their future professional careers.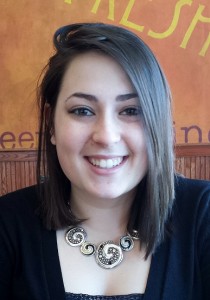 Kelly Morrissey ('15, Communication & Individualized: International Relations) will be spending 8 weeks in Suzhou, China beginning in June, 2014. This demanding program requires 20+ hours of classroom instruction, extensive community engagement and a language pledge requiring that scholarship recipients speak only Chinese during all program activities.  Kelly is well-prepared to meet the challenges of this program, having spent the summer of 2013 in Shanghai, China on a Center for International Education (CIE) language program.  Her interest in China and her commitment to becoming proficient in Chinese developed in high school and have shaped the focus of her undergraduate program. In pursuit of her interests in global communication and trade, she is developing a comparative study on the traits of individualism and collectivism in relationship to media consumption in the U.S. and China for her senior honors thesis. Kelly's ultimate goal is to pursue graduate study in China and to work for the U.S. State Department.
Melanie Meinzer (Ph.D. student, Political Science) will continue her study of Arabic at the Arab American Language Institute in Meknes, Morocco with her scholarship. Her six-week program will also involve 20+ hours a week of formal classroom instruction divided between Modern Standard Arabic and the local Maghrebi Arabic dialect.  Outside of the classroom, Melanie will be engaged in activities in the host community and living with a local host family.  Acquisition of proficient conversational Arabic language skills is essential to her doctoral research on the impact of foreign aid on non-governmental organizations in Palestine, where she will be conducting interviews with ordinary Palestinians and other stakeholders.  Her interest in these issues grew out of her pre-dissertation field research in the Occupied West Bank earlier this year, and her work at the British Consulate-General in Boston, MA, where she organized interfaith events with local Jewish and Arab-American organizations.
For these students, applying to the Critical Language Scholarship provided a process that enabled them to identify their academic interests, articulate a coherent research framework and work towards future career goals.  Kelly asserts that the scholarship is not "something you do in a random fashion; you must distinguish yourself by proving your commitment to learning the language." Having applied for a CLS for the summer of 2013 and been turned down, she redoubled her efforts to demonstrate the seriousness of her commitment by pursuing an independent CIE program, continuing her involvement in campus and community organizations and maintaining a relationship with faculty from her CIE program.  "Persistence is the key – don't give up!" is Kelly's advice. Melanie concurs that demonstrating a consistent, long-term interest in the language and country is critical to a successful application. "Being able to develop a narrative about yourself, your studies, and your career plans in specific terms," and being able to explain how the scholarship would move you forward is important.  She recommends starting early and working with the Writing Center and the Office of National Scholarships &Fellowships (ONS&F) staff on the application essays, and says that writing and revising several drafts before final submission is a critical step in the process.
For both Kelly and Melanie, the opportunity to fully immerse themselves in the culture and language of their respective countries, in addition to meeting the CLS program requirements and adapting to local culture and dialects, are all challenges they are eager to accept.  Let's congratulate them and wish them best of luck in their travels!
To learn more about the Critical Language Scholarship and other opportunities for critical language studies, contact LuAnn Saunders-Kanabay, Assistant Director, Office of National Scholarships & Fellowships at luann.saunders-kanabay@uconn.edu.
---