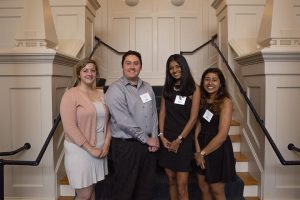 The Fulbright Program is the flagship international educational exchange program sponsored by the U.S. government and is designed to increase mutual understanding between the people of the United States and the people of other countries. The primary source of funding for the Fulbright Program is an annual appropriation made by the U.S. Congress to the U.S. Department of State, Bureau of Educational and Cultural Affairs. Participating governments, host institutions, corporations, and foundations in foreign countries and in the United States also provide direct and indirect support. Recipients of Fulbright grants are selected on the basis of academic or professional achievement, as well as demonstrated leadership potential in their fields. The Program operates in over 160 countries worldwide.
 Mahathi Kumar (CLAS, '18) Recipient of an English Teaching Assistant grant to Mexico. A Physiology & Neurobiology major with a Neuroscience minor, Mahathi has a passion for teaching English to non-native speakers here and abroad. She plans to draw upon her experience in Mexico to inform her future work as a pediatric neurosurgeon in the western hemisphere.
Marc Reyes (PhD candidate, History) Recipient of a Fulbright Research grant to India. Mark will conduct research to study scientific cooperation between U.S. and India with regard to atomic energy and nuclear weapons programs. While in India, he will be affiliated with Jawaharlal Nehru University and plans to join an intramural cricket team. Upon his return to the U.S., he will complete his dissertation and seek a position as a history professor.
Nikita Roy (CLAS, '18) Recipient of a Fulbright grant to Western Sydney University, Award in the Arts, Environment & Public Health. A Biological Sciences major with research interests in neurodegenerative disease, Nikita will join the HEADBOX Lab at Western Sydney University to conduct her research project. She plans to apply to medical school upon her return, become a neurologist and continue research to develop biomarkers for neurodegenerative diseases.
 Kaleigh Rusgrove Berry (MFA candidate) Recipient of a Fulbright grant to Western Sydney University, Award in the Arts, Environment & Public Health.  Kaleigh's Environment & Arts project involves narrative photography and documentation of the Australian Plant Bank of the Royal Botanic Gardens to explore how these resources could be used in a future for which they are being saved. She plans to exhibit this work upon her return to the U.S.