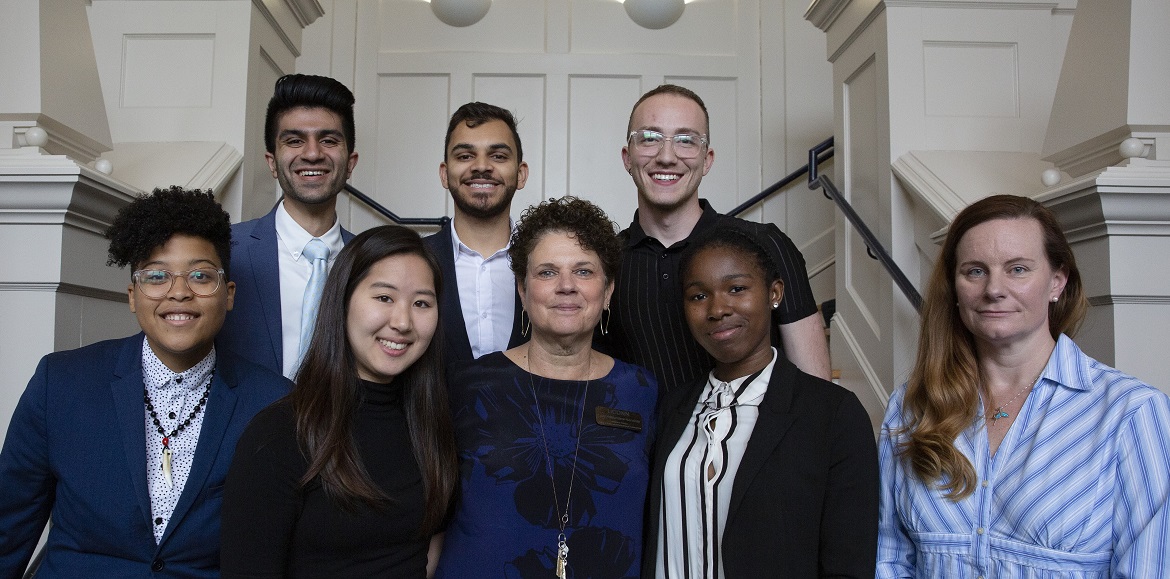 Fulbright US Student Program 2019-20 Semifinalists & Finalists, with Fulbright Program Advisor LuAnn Saunders-Kanabay, at ONSF's Celebration of Nominees breakfast, April 23, 2019.  Pictured from left to right are Chriss Sneed, Sahil Laul, Angela Kang, Dhruv Shah, LuAnn Saunders-Kanabay, Omar Taweh, Brianna McClure, and Kim Sawicki
Operating in over 160 countries worldwide, the Fulbright Program is the flagship international educational exchange program sponsored by the U.S. government and is designed to increase mutual understanding between the people of the United States and the people of other countries.  The primary source of funding for the Fulbright Program is an annual appropriation made by the U.S. Congress to the U.S. Department of State, Bureau of Educational and Cultural Affairs.  Participating governments, host institutions, corporations, and foundations in foreign countries and in the United States also provide direct and indirect support. Recipients of Fulbright grants are selected on the basis of academic or professional achievement, as well as demonstrated leadership potential in their fields. 
The Fulbright U.S. Student Program provides grants for individually designed study/research projects or for English Teaching Assistantships. During their grants, Fulbrighters will meet, work, live with and learn from the people of the host country, sharing daily experiences. Through engagement in the community, the individual will interact with their hosts on a one-to-one basis in an atmosphere of openness, academic integrity, and intellectual freedom, thereby promoting mutual understanding.
Congratulations to UConn's 7 Fulbright Student awardees:
Alexander Holmgren (CLAS '18) Recipient of a Fulbright English Teaching Assistant Grant to South Korea. Alexander will spend a year teaching English to Korean secondary school students and hopes to share with them his love of literature. He also hopes to fulfill a long time dream of seeing the haenyeo or 'sea women' while in Korea.  Alexander will begin law school upon returning to the United States.
Josue Lopez (Ph.D. Candidate, Curriculum and Instruction) Recipient of a Fulbright research grant to Guatemala. Josue will conduct ethnographic research in a Mayan Ki-che village to better understand policy and practice relevant to multicultural education. He will partner with community organizing groups and USAID to advocate for educational access and share his research findings with these advocacy groups. Upon his return, he will complete his dissertation, seek a teaching position at an R-1 university and build a teacher exchange program.
Christopher Manoharan (Ph.D. Candidate, Anthropology) Recipient of a Fulbright grant to Turkey. Christopher is a doctoral student in Anthropology interested in studying contemporary Sufism. His project will focus on an ethnographic analysis of Sufi rituals and an experimental assessment of the dhikr ritual utilizing heart rate sensors and accelerometers. In addition to his academic pursuits, Christopher is also a musician and looks forward to performing Turkish music on the fiddle in street performances. Upon his return, he will complete his dissertation and pursue a career in diplomacy.
Kim Sawicki (CAHNR '19) Recipient of a Fulbright grant to the European Union. With a dual-degree in pathobiology and allied health sciences, Kim's undergraduate work prepared her for a future career in epidemiology, studying the One Health Initiative. Collaborating with St. Andrew's University (Scotland) and the Marine Institute (Republic of Ireland), her work explores current successful efforts in the EU which preserve cultural coastal fishing communities. The results will be shared with domestic fisheries partners and marine conservation experts who seek to expand sustainable fishing practices.
Dhruv Shah (CLAS '19): Recipient of a Fulbright grant to India. Dhruv studies molecular and cell biology, English, and creative writing. He hopes his time as an English Teaching Assistant will help him experience the unique stories, color, customs, and different ways of life India has to offer. He will use his experiences to improve himself as an academic physician, an author, and as an informed citizen of the world.
Chriss Sneed (Ph.D. Candidate, Sociology). Recipient of a Fulbright Research grant to Brazil. Throughout the 2018-2019 academic year, Chriss has been a Research Associate in Residence at the Five College Women's Studies Research Center (South Hadley, MA) and Visiting Instructor of African American Studies at Wesleyan University during the Spring 2019 semester. Their dissertation analyzes how constructions of identity shape individuals' understandings and involvement in social justice organizations and practices. Specifically, they examine the role of identity in Black/Afro-descendent activist engagements within the United States and Brazil, with a special focus on work which sits at the intersection of race, gender, and sexuality.
Omar Taweh (CLAS '19) Recipient of Fulbright Research grant to Jordan. As a neurobiology & psychology double major minoring in human rights, Omar is interested in the intersection between resource access to refugees and their resultant health outcomes in local and international host countries. Upon his anticipated return to the US, Omar will apply to medical school in hopes of becoming an ER doctor to serve domestic and international populations facing adversity and difficulty accessing basic medical care.
To learn more about the Fulbright U.S. Student Program, make an appointment today to meet UConn's Fulbright Program Advisor Ms. LuAnn Saunders-Kanabay, or visit the Office of National Scholarships & Fellowships and click "Talk to an Advisor."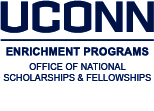 ---