The Goldwater Scholarship awards up to $7,500 to college sophomores and juniors majoring in math, science, engineering, or research psychology (not clinical). Students who are competitive for the award have had significant research experience and have plans for graduate study (aspire to a PhD or MD/PhD) and a career in research.  Students must be nominated by their home institution, and schools are generally allowed to nominate up to four candidates.  Click here to learn more about the scholarship and about UConn's campus nomination process.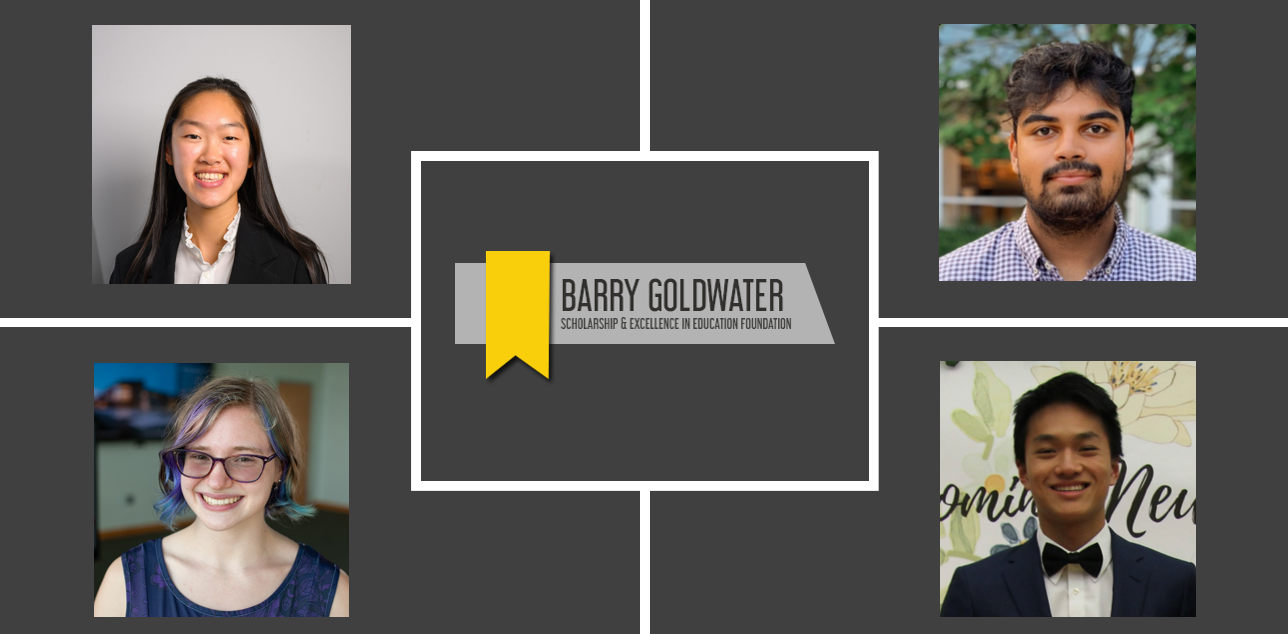 UConn's 2023 Goldwater Scholarship Nominees
Lisa Liang (CLAS '25), from Madison, CT, is a Stamps Scholar majoring in chemistry. She plans to pursue a Ph.D. in chemistry to conduct research in nucleic acid and drug delivery through nanoparticles while teaching at an academic institution. Lisa's interest in research was piqued in high school, where she participated in materials science research and witnessed first-hand the impact of scientific investigation on her daily life while visiting a pharmaceutical company's lab with a club. During the first semester of her freshman year, Lisa joined Prof. Jessica Rouge's research group studying the delivery of therapeutic nucleic acids through nucleic acid nanocapsules (NANs). In the summer of 2022, she participated in the Holster Scholar Program to investigate how to combat hereditary diseases via nanocarrier targeted delivery of therapeutic DNA. Lisa's current projects expand on this work by focusing on developing nanocapsule structure for optimal delivery of therapeutic nucleic acids to the cytosol and beyond. Outside of the lab, Lisa is passionate about serving her peers as the Vice President of UConn Honors Council and loves volunteering with the Windham Heights Afterschool Tutoring Program. In her free time, she enjoys drawing, running, and hanging out with her friends and family.
Neo Lin (CLAS '25) from Madison, CT, is a sophomore Honors student studying chemistry. He plans on obtaining a Ph.D. in chemistry following graduation. He has been working in Mani Laboratory of the Department of Chemistry since the fall of his freshman year on optically addressable molecular qubits based on organic radical pairs (RPs). The goal of his research project to realize emissive RPs of long enough lifetimes for molecular qubits, using donor-bridge-acceptor (D-B-A) molecular motifs. His first project explored the RP lifetimes and charge transfer emission in D-B-A molecules with "kinked" conjugated bridges. The kink design combined with varied bridge length attempted to decrease electronic couplings to lengthen RP lifetimes and realize significant charge transfer emission. After being awarded the Dr. Charles Waring Scholarship during the summer of 2022, he pursued a second project studying the implementation of a durene bridge and its effects on RP lifetimes. His findings from this project are now being finalized and will soon be submitted for publication. Building off the information gathered from his first two projects, Neo is now pursuing unique D-B-A molecular motifs to achieve the goal. Outside of research, Neo is passionate in traveling and enjoys spending time with friends and family.
Romir Raj (ENG '24) from Glastonbury, CT, is an Honors student majoring in biomedical engineering. He plans to pursue an M.D./Ph.D. in genetics and genomics after completion of his bachelor's degree to be a practicing physician who performs clinical research. Romir first joined Dr. Mayu Inaba's Lab at UConn Health, Farmington, which studies chromosomal homolog pairing. To expand upon his research, Romir also joined Dr. Jelena Erceg's Lab at UConn, Storrs, to investigate homolog pairing in developing Drosophila embryos. In the summer of 2022, Romir received the SURF grant and conducted research in both the Inaba and Erceg Labs, where he further studied and built upon his past research on interchromosomal interactions (mainly homolog pairing). This research experience resulted in two journal publications, in Nature Communications and Frontiers in Cell and Developmental Biology. In his final three semesters, Romir plans to study more about genomic architecture and the possible functional implications of this architecture. Outside of academics, Romir volunteers at Saint Francis Hospital and is a founder of a non-profit organization chapter on campus. He enjoys listening to music, spending time with friends, and running outside.
Lyla White, (CLAS '24) is a STEM Scholar from Newington, CT, majoring in pharmacy studies and minoring in biological sciences. She plans to pursue a Ph.D. in pharmaceutical sciences to teach at a school of pharmacy and continue investigating the safety of drug therapies and developing safer dosage forms. Lyla became interested in research in 2019 when she performed a systematic review evaluating the validity of claims about CBD topical products. As a Holster Scholar in 2021, Lyla designed and 3D printed personalized drug tablets to simplify the complex drug regimen of diabetes patients. The same year, she published a review to explore FDA oversight of foreign clinical trials. Still committed to improving patient safety, Lyla now studies the effect of different temperatures and humidities on the safety of commercial drug tablets under common, real-world conditions. She hopes to eventually design her own drug tablets to be safer under these conditions. Outside of the lab, Lyla is the vice president of the UConn Climbing Team, the education coordinator for the Honors in STEM student organization, a mentor for Peer Allies Through Honors, and a student liaison for the school of pharmacy curriculum committee. Lyla is also a purple enthusiast!
To learn more about these and other nationally-competitive scholarship and fellowship opportunities, visit the Office of National Scholarships & Fellowships and click "Talk to an Advisor."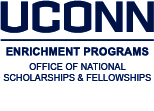 ---