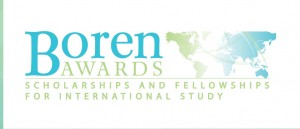 Boren Scholarships and Fellowships provide unique funding opportunities for U.S. undergraduate and graduate students to study less commonly taught languages in world regions critical to U.S. interests, and underrepresented in study abroad, including Africa, Asia, Central and Eastern Europe, Eurasia, Latin America, and the Middle East.

National Security Education Program
As NSEP initiatives, the Boren Awards focus on countries, languages, and fields critical to U.S. national security, recognizing a broad definition that includes traditional concerns of protecting American well-being, as well as challenges of global society, such as sustainable development, environmental issues, disease, migration, and economic competitiveness.
Language Study
The Boren Awards emphasize less commonly taught languages and long-term linguistic and cultural study, as well as research and academic internships abroad. Study of a foreign language appropriate to the country or region is an integral part of each Boren Scholar and Fellow's plan.
Funding
Boren Award amounts are based on the length of time the Boren Scholar or Fellows spends overseas and the cost of the program. Boren Scholarships can provide undergraduate students with up to $25,000 and Boren Fellowships can provide graduate students with up to $30,000.
Government Service
Boren Scholars and Fellows represent a vital pool of highly motivated individuals who wish to work in the federal national security arena.  In exchange for scholarship and fellowship funding, Boren Award recipients commit to working in the federal government for at least one year after graduation.
Campus deadline: January 5, 2022. 
Students submit a complete application to the Boren campus representative and it's reviewed by the Boren campus committee; applicant interviews with the campus committee; feedback is given by the committee to the applicant for any revisions to the application; a campus evaluation is submitted with the student's final application.
National application deadlines: graduate –  January 22, 2022; undergraduate – February 2, 2022.

Boren Campus Representative
LuAnn Saunders-Kanabay, Assistant Director of ONS&F, is the Boren campus representative. For additional information about the scholarship and the application process, contact her at: luann.saunders-kanabay@uconn.edu
Megan Streit, PhD student, History 2019 NSEP Boren Fellowship Recipient to Ukraine