Application Deadline for Nomination:  Late October, 2018
Access UConn's application for nomination HERE (applications closed)
(login with your NetID & email password)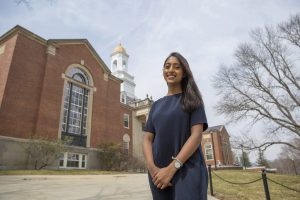 The Truman Scholarship is awarded to college juniors with exceptional leadership potential and commitment to a career in government, the nonprofit or advocacy sectors, education, or elsewhere in public service.
Scholars are awarded up to $30,000 to pursue graduate studies, receive pre-professional/graduate advising from the Foundation and are invited to participate in internships and other programs.
Please review all eligibility requirements and rules on the official Harry S. Truman Foundation website. You are encouraged to make an appointment with ONS&F Director Vin Moscardelli to discuss your eligibility before you apply for nomination.
To Apply
You must be nominated by the University to apply for the national competition. The UConn application for nomination deadline for the 2019 Harry S. Truman competition is: Late October, 2018.
To access the application (available late summer 2018), clink on the link above and log in with your UConn NetID & password.  Be sure to read all instructions carefully.
Recent Truman Scholarship Winners and Finalists from UConn
Akshayaa Chittibabu
2018 Truman Scholar
Elizabeth Charash
2017 Truman Finalist
Abdullah Hasan
2015 Truman Finalist
Emily Kaufman
2015 Truman Finalist
Mary (Molly) Rockett
2014 Truman Scholar
John Giardina
2013 Truman Finalist
Colin Carlson
2011 Truman Scholar
Lucian Lafreniere
2011 Truman Finalist
Nicole Rubin
2011 Truman Finalist
Alexandra Kuenhle
2010 Truman Finalist
Valen Diaz
2010 Truman Finalist
Amanda Ploch
2008 Truman Finalist
Samantha Sherwood
2007 Finalist