Internal Application Deadline for Nomination: February 5, 2023 (11:59PM)
The Morris K. Udall and Stewart L. Udall Foundation is committed to increasing awareness of the importance of the nation's natural resources. The Udall Scholarship awards up to $7,000 and access to the Udall Scholars network to sophomores and juniors who are passionate about the environment (in any field), OR who are Native American and intend to pursue careers in Native health care or tribal public policy.  In recent years, the Foundation has awarded between 50-55 scholarships, approximately 2/3 of which have been in the environmental category and 1/3 of which have been in the Native American health care and Tribal public policy category.  Institutional nominations are due to the Foundation at the end of the first week of March.
Please review all eligibility requirements and rules on the official Udall Scholarship website.  You must make an appointment with Dr. Vin Moscardelli, the Director of the Office of National Scholarships & Fellowships, to discuss your eligibility before you apply for nomination.  You can only access the application for nomination via a link provided by ONSF.
The Udall Scholarship application is quite involved, and includes several essays, so it's imperative to start early.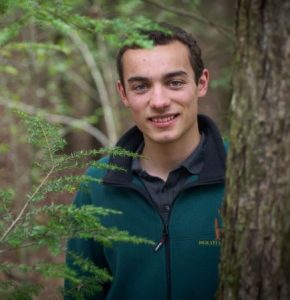 To Apply
You must be nominated by the University to apply for the national competition. The UConn application for nomination deadline for the 2022 Udall competition is: 11:59PM, Sunday, February 5, 2023.
Here's what you'll need to complete the application for nomination:
Unofficial UConn transcript & any grade reports from other institutions
At least two (2) letters of recommendation (nominees will eventually have to supply three LORs)
1-2 pp resume
Polished & edited essays and well-crafted answers to questions
Recent Udall Scholars & Honorable Mentions from the University of Connecticut
Samantha Gove
2022 Udall Scholar
Chase Mack
2022 Honorable Mention
Sage Phillips
2021 Udall Scholar
Emily Kaufman
2020 Honorable Mention
Sage Phillips
2020 Honorable Mention
Wanjiku Gatheru
2019 Udall Scholar
Nicholas Russo
2016 Udall Scholar
2017 Honorable Mention
Christopher C. Bruno
2015 Honorable Mention
Ari Fischer
2014 Udall Scholar
Manisha Bicchieri
2012 Honorable Mention
Ethan Butler
2011 Udall Scholar
Katherine Tsantiris
2011 Udall Scholar
Colin Carlson
2010 Udall Scholar
Christopher Berthiaume
2010 Honorable Mention
Jessica Kulkielka
2005 Udall Scholar
Established by Congress in 1992, the Udall Foundation awards scholarships, fellowships and internships for study in fields related to the environment and to Native Americans and Alaska Natives in fields related to health care and tribal public policy. It provides funding to the Udall Center for Studies in Public Policy to conduct policy research and outreach on the environment and related themes and to the Native Nations Institute for research, education and outreach on Native American and Alaska Native health care issues and tribal public policy issues. The foundation operates the Stewart L. Udall Parks in Focus Program, which helps connect middle school youth to nature through photography, environmental education and outdoor recreation; and provides assessment, mediation, training and other related services through the John S. McCain III National Center for Environmental Conflict Resolution.