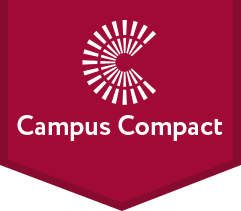 The Newman Civic Fellows Award honors inspiring college student leaders who have demonstrated an investment in finding solutions for challenges facing communities throughout the country. Through service, research, and advocacy, Newman Civic Fellows are making the most of their college experiences to better understand themselves, the root causes of social issues, and effective mechanisms for creating lasting change. The award, administered through Campus Compact, recognizes student leaders who:
Take action in pursuit of long-term positive social change
Inspire and engage others
Demonstrate the motivation and potential for effective long-term civic engagement
Are members of the class of 2020 or 2021
To apply for nomination, please complete the form below before the internal application deadline of 4:00PM on Thursday, February 7.
Biographies of recent UConn nominees:
Wawa Gatheru (2018)
Akshayaa Chittibabu (2017)
Elizabeth Charash (2016)
---