Director: Vincent G. Moscardelli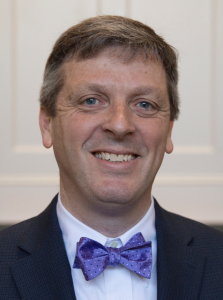 Vin Moscardelli became Director of the Office of National Scholarships and Fellowships (ONSF) in the fall of 2016.  Vin is a political scientist (Ph.D. Emory University) whose research and teaching interests include the U.S. Congress, elections, and political leadership.  A former American Political Science Association Congressional Fellow, his most recently published research, supported by a grant from the William and Flora Hewlett Foundation, explores the politics of congressional primaries.
Prior to joining ONSF, Vin held faculty appointments at the University of Massachusetts-Amherst and the University of Connecticut.  He has 25 years of experience in the classroom and on the "front lines" of enrichment programs and advising, having served as a departmental honors coordinator, departmental internship coordinator, and faculty advisor to student organizations.  While at UMass, he received national recognition for his work with political science honors students, being named "Best Chapter Advisor" by Pi Sigma Alpha, the national political science honor society.
Specializes in leadership and public service fellowships, including the Rhodes, Marshall, Mitchell, Gates-Cambridge, Truman, Udall, and others.  Students should schedule an appointment with Dr. Moscardelli via Email (vin.moscardelli@uconn.edu) or Nexus, or just stop by his office, which is located in ROWE 426A.
Assistant Director and Fulbright Program Advisor: LuAnn Saunders-Kanabay
Ms. Saunders-Kanabay is a graduate of the University of Massachusetts (B.A., psychology) and University of Connecticut (M.A., medieval studies, ABD European history) and has taught European history and art history courses as a visiting instructor at Connecticut College and lecturer at University of Connecticut campuses. Her research focused on women in the medieval English village and she has presented several times at the International Medieval Congress. LuAnn first joined ONSF as a part-time advisor, spending the rest of her time advising Individualized Majors for UConn's Individualized and Interdisciplinary Studies Program. Before joining the Enrichment staff at UConn, she was a Student Development Specialist/Academic Advisor at Eastern Connecticut State University.
Specializes in the U.S. Student Fulbright Grant Program, the NSEP Boren Scholarship, Gaither Junior Fellows, Gilman Scholarship, Critical Languages Scholarships, and other national scholarships and fellowships focused on international affairs or advanced research/study abroad. You can schedule an appointment with her via Nexus.

---
Interested in STEM Scholarships or Fellowships? Contact ONSF
Graduate students and undergraduates interested in STEM fellowships such as the NSF Graduate Research Fellowship, the Churchill Scholarship, or the Goldwater Scholarship should reach out to ONSF either via Email (onsf@uconn.edu) or by completing the intake survey found here.  An advisor will respond to schedule an appointment as soon as possible.