Director: Vincent G. Moscardelli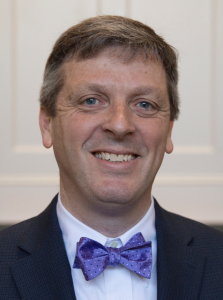 Vin Moscardelli became Director of the Office of National Scholarships and Fellowships (ONSF) in the fall of 2016.  Vin is a political scientist (Ph.D. Emory University) whose research and teaching interests include the U.S. Congress, elections, and political leadership.  A former American Political Science Association Congressional Fellow, his current research, supported by a grant from the William and Flora Hewlett Foundation, explores the politics of congressional primaries.
Prior to joining ONSF, Vin held faculty appointments at the University of Massachusetts-Amherst and the University of Connecticut.  He brings with him over 15 years of experience in the classroom and on the "front lines" of enrichment programs and advising, having served as a departmental honors coordinator, departmental internship coordinator, and faculty advisor to student organizations.  While at UMass, he received national recognition for his work with political science honors students, being named "Best Chapter Advisor" by Pi Sigma Alpha, the national political science honor society.
Students interested in learning more about the Rhodes, Marshall, Mitchell, Gates-Cambridge, Truman, Udall, and other prestigious national scholarships and fellowships should schedule an appointment with Vin via Email (vin.moscardelli@uconn.edu) or Nexus, or just stop by his office, which is located in ROWE 426A.
Assistant Director and Fulbright Program Advisor: LuAnn Saunders-Kanabay
Ms. Saunders-Kanabay is a graduate of the University of Massachusetts (B.A., psychology) and University of Connecticut (M.A., medieval studies, ABD European history) and has taught European history and art history courses as a visiting instructor at Connecticut College and lecturer at University of Connecticut campuses. Her research focused on women in the medieval English village and she has presented several times at the International Medieval Congress. LuAnn first joined ONSF as a part-time advisor, spending the rest of her time advising Individualized Majors for UConn's Individualized and Interdisciplinary Studies Program. Before joining the Enrichment staff at UConn, she was a Student Development Specialist/Academic Advisor at Eastern Connecticut State University.
Specializes in the U.S. Student Fulbright Grant Program, the NSEP Boren Scholarship, Gaither Junior Fellows, Gilman Scholarship, Critical Languages Scholarships, and other national scholarships and fellowships focused on international affairs or advanced research/study abroad. You can schedule an appointment with her via Nexus.

---
Assistant Director of Enrichment Programs for Research and Fellowship Programs: Rowena Grainger
Dr. Grainger is a two-time alumna of the University of Arizona, graduating with a Bachelor's of Science degree in Molecular and Cellular Biology and a doctorate in Medical Pharmacology. With over ten years' experience at the bench, the primary focus of her research has been on respiratory disease. In particular, her dissertation work involved deciphering the mechanisms behind allergen associated asthma with a focus on the fungal allergen, Alternaria alternata. Most recently, Rowena completed postdoctoral training at Washington University in St. Louis in the Pulmonary Division, where she was involved in a drug discovery initiative to identify small molecules that would target mucous production in the airway.
While honing skills at the bench, Rowena also developed a strong interest in student affairs and a desire to help students achieve academic success. As a graduate student, she served on student advisory committees in addition to holding leadership positions in student organizations focused on building community amongst students. Notably, she co-founded and served as the public relations chair of the Black Graduate Students Association at the University of Arizona while simultaneously holding a position on the national board of the National Black Graduate Students Association as Western Regional Representative. Both positions involved the organization of professional development workshops and conferences, and positioned her to become a mentor to several undergraduate and graduate students.
Rowena brings to the ONSF team the experience of being a bench scientist as well as the accomplishments of being a former NIH Minority Access to Research Careers (MARC) scholar and NIH Initiative for Maximizing Student Development (IMSD) alumna.  In addition to her work as STEM Fellowships Advisor, Dr. Grainger also manages the Health Research Program, which is administered by UConn's Office of Undergraduate Research.
Focuses on graduate fellowships such as NSF Graduate Research Fellowship, Environmental Protection Agency (EPA) STAR Graduate Fellowships, Department of Energy Office of Science Graduate Fellowship Program and NIH Ruth L. Kirschtein National Research Service Award.
You can schedule an appointment with her via Nexus