The Critical Language Scholarship (CLS) Program is a fully funded summer overseas language and cultural immersion program for American undergraduate and graduate students. With the goal of broadening the base of Americans studying and mastering critical languages and building relationships between the people of the United States and other countries, CLS provides opportunities to a diverse range of students from across the United States at every level of language learning. The CLS Program is a program of the U.S. Department of State.
2017 CLS Winners: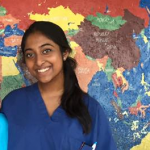 Akshayaa Chittibabu (CLAS '19) is a STEM Scholar majoring in physiology and neurobiology with aspirations to attend medical school and specialize as an OB/GYN.  As a 2016 Holster Scholar, her Holster research project was inspired by her volunteer work in Tamil Nadu, India, where she encountered rural South Indians with low access to health care. Her research, "Assessing the Influence of Select Sociodemographic and Socioeconomic Factors on Non-Compliance to Follow-Up Cervical Cancer Care in Rural Women: A Study in Rural South India" was presented at the Holster Scholars reception in Fall 2016.  On campus, Akshayaa is part of the Writing Center tutoring staff and is an active slam poet and board member of UC Poetic Release and Performance Crew, the UConn spoken word collective and slam poetry team. She will study Korean at the Chonnam National University in Gwangju, Korea.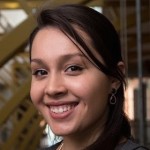 Moira Lewerk (CAHNR, '18) is an Honors student majoring in Allied Health Sciences with an interest in languages and culture. As a RISE Scholar, she participated in an intensive summer research experience in a laboratory affiliated with the Cognitive Science Program and the Connecticut Institute for the Brain and Cognitive Sciences.  As a representative for the Pan-Asian Council, Moira also seeks to engage with others in a wide-ranging exploration of cultural differences and similarities. A musician, amateur film-maker and avid traveler, she hopes to return to Korea after graduation to teach English and continue her Korean language learning. Her ultimate goal is to continue her education in both the sciences and communication. She will study Korean at the Chonnam National University in Gwangju, Korea.
---