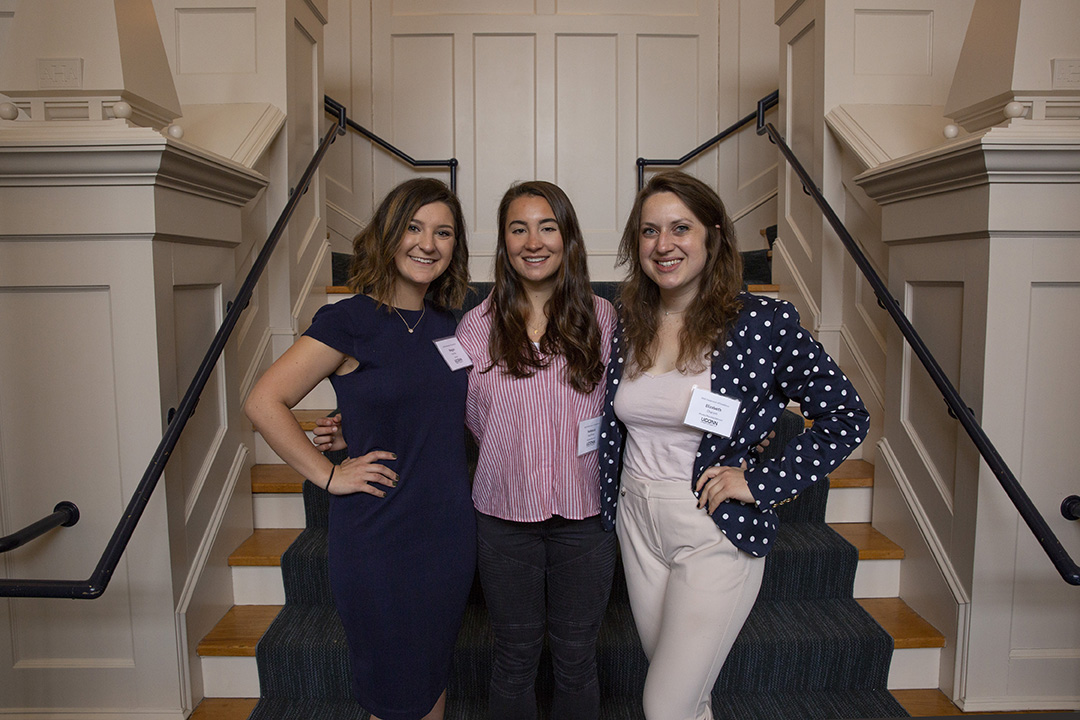 Meet UConn's 2017-18 nominees for the Rhodes, Marshall, and Mitchell Scholarships.
Megan Handau (CLAS '18) is a senior Honors student and Babbidge Scholar from New Fairfield Connecticut, majoring in political science and women's, gender, and sexualities studies. She was nominated for the Mitchell Scholarship.  In her time at UConn, Megan has interned with Congresswoman Elizabeth Esty in her Washington, D.C. and district offices, the Office of the Public Defender in Hartford, and the Right2Know Campaign in Cape Town, South Africa. During the spring of her senior year, she served as campaign manager for Amanda Webster, a progressive Democrat running for the Connecticut State House of Representatives. Megan's passion for intersectional feminism and government drives her research for her senior Honors thesis, entitled "I'm Not Supposed to Be Here: A Race-Gendering of the Public Identity of the First Lady." Dedicated to effective leadership and student political involvement, Megan has served president of UConn College Democrats, president of UConn Ready For Hillary, president of Alpha Epsilon Phi, and vice president of Student Coalition for Social Justice. Megan has also been the recipient of the Fannie Dixon Welch Scholarship, awarded for active citizenship and promise of leadership in government, the 100 Years of Women Scholarship, awarded for advancing the role of women in society, and the Augusta Gerberich Scholarship. Megan's commitment to public service and amplifying the agency of others resulted in her being offered the chance to serve with the Peace Corps after graduation as a Community Development Volunteer in Moldova. Her future plans include law school.
Rebecca Kaufman (CLAS '18), from Mansfield, CT, is an Honors student double majoring in political science and human rights, and minoring in public policy.  She aspires to pursue a career in sustainable development and work on issues around the right to water.  She was nominated for the Marshall Scholarship.  An avid runner, Rebecca has worked as Program Design Fellow for Net Impact in Oakland, CA, interned for U.S. Senator Chris Murphy, worked with local leaders in rural Guatemala through the Social Entrepreneurship Corps, and studied abroad in Cape Town, South Africa where she interned at the Economic Justice Network. As a spring 2016 IDEA Grant recipient, Rebecca used her funding to analyze the policy outcomes and increased female empowerment promulgated by women in local government in the Asia-Pacific region. She is now finishing her senior thesis, working to construct a more intersectional and comprehensive indicator for women's empowerment. In spring 2017, she was awarded the Augusta H. Gerberich Scholarship, which is given annually to a junior or senior majoring in political science whose special field of interest is international relations.  She is also a member of Phi Beta Kappa, a New England Scholar, a Human Rights Institute Oxford Fellow, and received an Alan R. Bennett Research Assistantship in fall 2014.  In the spring of 2016, Rebecca and three other students co-founded the Student Coalition for Social Justice, which conducts sustained, intersectional social justice campaigns in order to incite positive social change on the UConn campus and beyond. Rebecca will be serving as a Water Sanitation and Hygiene Peace Corps Volunteer in Panama from July 2018 to October 2020.
Elizabeth Charash (CLAS '18) is a history major who was nominated for the Rhodes, Marshall, and Mitchell Scholarships. She is an avid reader, consumer of political satire and tea connoisseur. She is from Newtown, CT, where she is involved with gun violence prevention advocacy following the shooting at Sandy Hook Elementary her junior year. She has studied abroad in Cape Town, South Africa where she worked with community members in an area with high levels of gun violence. Her time in Cape Town in combination with her high school activism have shaped the research she is currently conducting on the differences in urban and suburban gun violence prevention policy and activism. Elizabeth has interned in the offices of Congresswoman Elizabeth Esty and Senator Chris Murphy, as well as the Brady Campaign to Prevent Gun Violence. She is also founder and president of UConn Against Gun Violence, where she seeks to inform her community about the complexities of gun violence.  Winner of the 2016 Newman Civic Fellowship and a 2017 Finalist for the Marshall, Mitchell and Truman Scholarships, Elizabeth is also the recipient of an IDEA grant to continue her ongoing research on the "Faces of the Gun Violence Prevention Movement in Connecticut" with Sociology Professor Mary Bernstein.  Upon graduation, she will be pursuing a MA in Conflict Transformation and Social Justice at Queens University Belfast, with later plans to pursue a joint JD and PhD continuing her work to inform and take action to mitigate gun violence.
---