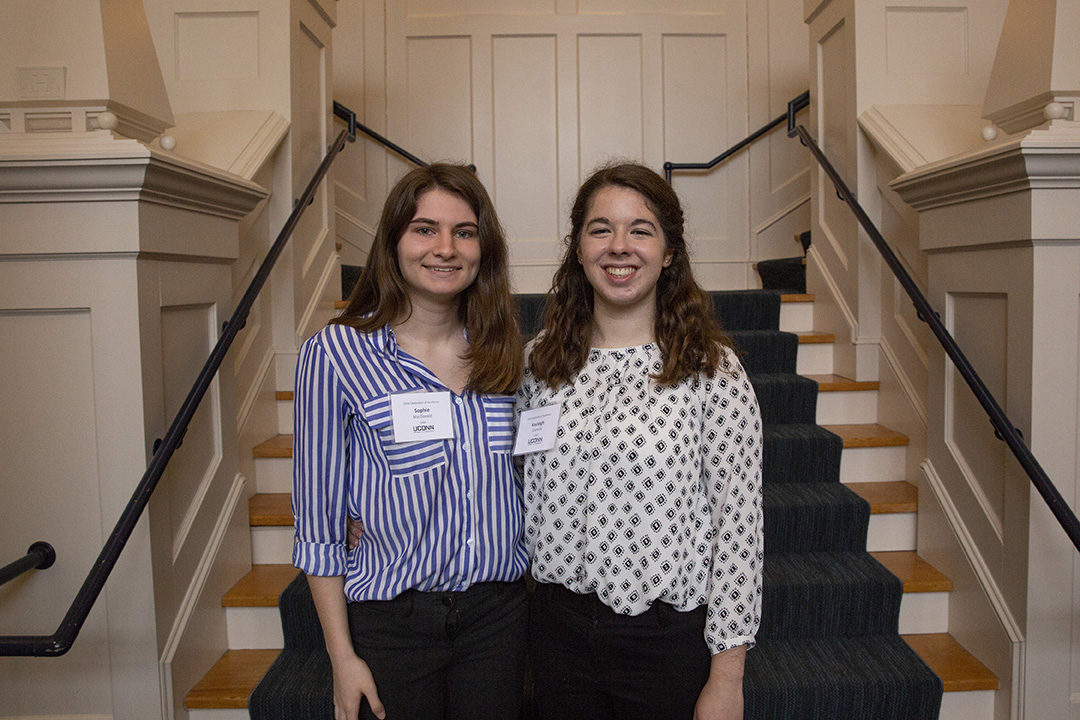 Meet UConn's nominees for the Udall Scholarship.
Kayleigh Granville (CAHNR '19) is an Honors Student and University Scholar from Newtown, CT, majoring in environmental science. She plans to pursue a Master's degree in environmental science with a focus on aquatic biogeochemistry. Kayleigh has been working in the lab of Dr. Ashley Helton since her freshman year, when she received a Holster Scholar grant to conduct research on the effects of road salts on ephemeral wetland food webs. During her sophomore year, she received a Michael Lefor Grant from the Connecticut Association of Wetland Scientists to conduct research on denitrification rates and nitrous oxide emissions from salt marshes. She presented her research at the Connecticut Conference on Natural Resources and at the Connecticut Association of Wetland Scientists annual meeting. As a junior, Kayleigh was named a University Scholar and received a SURF Grant to expand on her previous research on denitrification. In addition to her commitment to environmental research, Kayleigh is passionate about environmental education and has developed and taught programs for children from ages three to twelve at Webb Mountain Discovery Zone, an outdoor learning center in Monroe, CT. She is the president of UConn Wildlife Society, works at the Office of the Registrar, and enjoys running, hiking, and writing in her spare time.
Sophie MacDonald (ENGR '20) is a sophomore Honors student and Nutmeg Scholar majoring in mechanical engineering and minoring in philosophy and math. She plans to pursue an M.S. in Sustainable Engineering, and she aspires to be a practicing engineer in the renewable energy sector. Freshman year, she conducted research under Dr. Leslie Shor in her engineered microhabitats laboratory, and thoroughly enjoyed every minute of it. This semester, she is conducting research more directly associated with her career goals under Dr. Alexander Agrios, whose research focuses on the latest technology in solar power. At the end of her freshman year, Sophie was hired as an intern at the UConn Office of Environmental Policy, where she continues to work on various initiatives to promote sustainability on campus. She is also the co-lead for the Ethiopia Project, as well as the events and planning lead for the University's chapter of Engineers Without Borders. In this role, Sophie works to help the environment as well as the community of people who depend on its protection. When the dust settles every so often, Sophie loves to do anything and everything outdoors, from hiking to ice climbing to birding.
Weston Henry (CLAS '19, CAHNR '19) is a STEM scholar and honors student pursuing a dual degree in ecology and evolutionary biology and landscape architecture. Originally from Mansfield, Connecticut, he has been working in the lab of Dr. David Wagner since high school, with a focus on butterflies, moths, and caterpillars. In summer 2017, he received a SURF grant and was able to live in a cabin on stilts over the Housatonic River, studying various aspects of the conservation of the state-endangered and globally vulnerable Northern Metalmark butterfly. Other research experience includes studies of bird predation in differentially sized forest fragments, monitoring of gastropod populations in Puerto Rico, plant physiology research in South Africa, and general lab work. This past November, he also attended the United Nations climate change conference in Bonn, Germany.  Within the landscape architecture sphere, Weston serves as secretary of UConn's chapter of the American Society of Landscape Architects, and will be interning with Kimley-Horn and Associates, Inc. planning and design consultants in San Diego, California this coming summer. During his career, he hopes to address the gap between ecological science and design of built spaces, in order to create landscapes that address environmental issues including but not limited to climate change, habitat destruction and resulting biodiversity loss. In his spare time, he enjoys volunteering at the Hole in the Wall Gang Camp, traveling, and being in nature.
---