UConn's 2021 Truman Scholarship Nominees (l to r) Ryan Phillips, Shelby Houghton, Sena Wazer, Noah Frank, and Sage Phillips
The Truman Scholarship is awarded to college juniors with exceptional leadership potential and commitment to a career in government, the nonprofit or advocacy sectors, education, or elsewhere in public service.  Scholars are awarded up to $30,000 to pursue graduate studies, receive pre-professional/graduate advising from the Foundation and are invited to participate in internships and other programs.  Schools may nominate up to four students each year for the Truman Scholarship, with additional nomination slots available for transfer students.  The campus deadline nomination falls on or around the first of November each year, but interested students are encouraged to reach out to Dr. Vin Moscardelli, Director of ONSF, as early as spring of their sophomore years.  Congratulations to this year's nominees.
Noah Frank (CLAS '22), from South Windsor, CT, is a junior pursuing a double major in political science and economics. An Honors Scholar and a member of the 2021 Leadership Legacy cohort, Noah has followed his passion for public service from a young age. He is a recipient of the Philip E. Austin Scholarship, and was a featured speaker at the 2020 TEDxUConn Conference. He is a statewide advocate for election reform. As Director of the External Affairs Committee for the UConn Undergraduate Student Government (USG), he spearheaded the #UConnVotes initiative, and has worked with lawmakers on numerous bills updating Connecticut's election infrastructure. In the Connecticut General Assembly, Noah has served as a leader, interning for Sullivan & LeShane, Inc. in his freshman year, then for the Secretary of the State of Connecticut. Most recently, Noah managed the Currey2020 campaign, a successful "contactless" effort to elect Rep. Jeff Currey to Connecticut's 11th House District. As a result of his election work, Noah founded Future Leaders in Politics (FLIP), a coalition of young people committed to changing local discussions on policy, and is a Youth Partner for Be(A)Part, a Yale-affiliated collaborative organization of students and scientific leaders building communities during the COVID-19 pandemic. Noah intends to pursue a joint JD/MPA, with the goal of developing and implementing plans to expand election access for all Americans. 
Shelby Houghton (CLAS '22), from Milford, NH, is a junior political science, human rights, and economics student. She prioritizes community engagement and empowering those who need it most. She has expressed these priorities through her work for the NH Coalition Against Domestic and Sexual Violence and the Souhegan Valley Boys and Girls Club.  She has also served in the DC office of U.S. Senator Maggie Hassan and in NH Representative Joelle Martin's office. On campus, Shelby is the Communications Specialist for software and design organization Squared Labs, where her recent projects include building waste water/pool testing for campus-wide COVID testing and sharing research through art and stellar online components. Shelby plays music with the UConn Marching Band, serving as a Band Captain and Vice President of her 300 member band family. You can also spot her include DJing at the WHUS radio station, moderating debate through Model United Nations, with her music service fraternity Kappa Kappa Psi, or drinking cold brew at your local coffee shop. In the future, Shelby plans to obtain a human rights focused law degree and serve as a public policy specialist in the American Civil Liberties Union, where she aims to remediate systems of violence in the United States and protect human rights for all.  
Ryan Hutchins (BUSN '22), a junior from Norton, MA, is an Honors student majoring in accounting. Ryan enjoys reading, hiking, and is an avid UConn basketball fan. He has interned with the Worcester County District Attorney's office, the Massachusetts Attorney General's office, and the Federal Defender's office of Connecticut. Interested in financial regulation and litigation, Ryan has also interned at the Consumer Financial Protection Bureau in their enforcement division. On campus, he served as President of the UConn Mock Trial Society, an organization that competes in mock trial across the northeast and hosts an annual invitational tournament. Mentorship is the center of Ryan's service activities. He helps lead a tutoring organization that supports middle school students as they work on their homework and served as a freshman Honors seminar co-facilitator. A member of the Special Program in Law, Ryan is interested in the legal profession and the power of lawyers to serve the public. In the future, he hopes to obtain a law degree and use his accounting background to make financial markets fairer and more equitable. Ryan has been nominated for the Truman Scholarship.
Sage Phillips (CLAS '22), from Old Town, ME, is a junior double-majoring in political science and human rights with a minor in native American & indigenous studies at the University of Connecticut. As a young panawáhpskewi (Penobscot) woman of the Wabanaki people, Sage hopes to pursue a joint program receiving a J.D. and M.A. in American Indian Law. Sage is the Founding President of the Native American & Indigenous Students Association and the Student Coordinator for Native American Cultural Programs (NACP) at UConn. She hopes that through her efforts to expand NACP to become a Cultural Center, she paves the way for UConn as a land-grant institution to work towards reparations for CT Native youth. Rewarded for her work surrounding leadership, Sage was selected as a member of the Leadership Legacy Experience, recognizing the University's most exceptional student leaders. Currently, she is a Co-Lead on a grant titled "Bridging the Gap: Assessing the Needs of Native Students in America's Higher Education" and a Coordinator for UConn's Indigenous Nations Cultural and Educational Exchange youth mentorship program. Both grants focus largely on land reassessment and opportunities for Native youth at UConn in hopes to get the University to be at good relation with the land it stands upon.  
Sena Wazer (CLAS '22), from Storrs, CT, is a junior majoring in environmental studies. She currently co-directs Sunrise CT, a hub of the national Sunrise Movement, which is a youth led movement fighting to "stop climate change and create millions of good jobs in the process." As co-director, Sena helped organize the September 20th and December 6th, 2019 youth climate strikes at the CT State Capitol in Hartford. In early 2020, she was also the lead organizer for the Sunrise CT youth lobby day at the CT state legislature, which brought over 150 students to the Capitol. Over the summer of 2020, Sena chaired a subcommittee on the Governor's Council on Climate Change, and phonebanked for candidates who ran for state legislature. Recently, she helped organize and facilitate the first Department of Energy and Environmental Protection Youth Climate Summit. Sena was also chosen to be a part of the 2021 Leadership Legacy Cohort at UConn. After graduation, she hopes to pursue a joint Law degree and Master's degree in environmental management, and run for office. She is passionate about climate justice and social justice, and wants to bring that passion into politics.
To learn more about these and other nationally-competitive scholarship and fellowship opportunities, visit the Office of National Scholarships & Fellowships and click "Talk to an Advisor."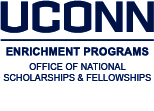 ---