The Goldwater Scholarship awards up to $7,500 to college sophomores and juniors majoring in math, science, engineering, or research psychology (not clinical). Students who are competitive for the award have had significant research experience and have plans for graduate study (aspire to a PhD or MD/PhD) and a career in research.  Students must be nominated by their home institution, and schools are generally allowed to nominate up to four candidates.  Click here to learn more about the scholarship and about UConn's campus nomination process.

Katie Hooker (CLAS '23), from Guilford, CT, is a Nutmeg Scholar majoring in molecular and cell biology. She plans to pursue a Ph.D. in genetics and genomics in order to teach and conduct research at a Research 1 institution, studying the genetics underlying cognitive traits such as reading and language ability. Katie's interest in genetics began in 2018 when completing a capstone project on the history of the FOXP2 gene, situating this understanding into the larger context of what makes humans unique from our genetic ancestors. She has since expanded on this work in Dr. Nicole Landi's lab, studying the relationship between variation on the FOXP2 gene, reading and language abilities, and brain metrics associated with these traits through the Holster Scholars Program in 2020. Katie's current research continues to extend this work, more accurately characterizing the complex relationship between FOXP2, reading and language abilities, and the brain through mediation and graph theoretical analyses. Outside of research, Katie is Vice President of the UConn Irish Dance Team, which puts on regular performances both on and off campus, and an Honors Guide for Peer Success. Katie also enjoys working at the Brain Imaging Research Center, helping run child participants through experimental protocols during MRIs. In her free time, she enjoys reading, running outside, or getting a cup of coffee with her friends.
Abigail Moran (CLAS '23) from Trumbull, CT, is an Honors student and University Scholar majoring in physics and applied mathematics with a minor in astrophysics. She plans to pursue a Ph.D. in astrophysics in order to conduct research using a combination of observational and computational techniques. She has been with Dr. Mingarelli's gravitational wave research group since December of 2020 working to improve pulsar astronomy sensitivity to make it possible to detect a continuous gravitational wave, detect dark matter, and test General Relativity. In the summer of 2021 she received a SURF grant to continue this work in conjunction with the Center for Computational Astrophysics, based in the Flatiron Institute in NYC. This project culminated in a formal paper for a journal publication, which is being finalized now. In her final three semesters, she will continue her work in pulsar astronomy, this time to measure the acceleration of the Milky Way galaxy. Outside of academics, Abby is in the sorority Alpha Omicron Pi, plays the trumpet, and is a volunteer math tutor for children whose educations have been adversely affected by the pandemic.
Antonina Wenc (CLAS '23) from Waterford, CT, is a first generation molecular and cell biology student. She plans to pursue a Ph.D. in biochemistry after finishing her bachelor's degree. Antonina has been conducting research alongside graduate students in the Angeles-Boza lab of the chemistry department since her freshman year. Here, she has been helping study the antibacterial efficacy of antimicrobial peptides. Over the last two years, Antonina has studied synergy between metal ions and antimicrobial peptides, as well as the structure and mechanism of a specific group of tunicate peptides, called the Clavanins. She has gained significant proficiency in peptide synthesis, chromatographic separations, and minimum inhibitory concentration assays. When research was shut down due to COVID-19 in the spring and summer of 2020, Antonina joined a lab journal club to participate in extensive discussion of the antimicrobial peptide and synergy literature. This research proved to be extremely useful a year later, when Antonina was helping create a book chapter on synergy for Methods in Enzymology, where she was named second author. Outside of the lab, Antonina is a peer mentor for other undergraduate female students in STEM at the Women's Center at UCONN. She is extremely passionate about advocating for women in STEM and hopes to continue mentoring female students as she pursues her Ph.D. In her spare time, she enjoys reading, going to spin class at the rec center, and spending time with friends.
Joshua Yu, (CLAS '23) from Frederick, MD, is an honors student studying molecular and cell biology. He plans to pursue an M.D./Ph.D. degree in pharmaceutical sciences focusing on the enhancement of nanoscale platforms through radiotherapy for treatment of cancer. His research career began in high school at the National Cancer Institute, where he studied chemokine receptor derived self-assembling peptide nanoparticles for cancer drug delivery. This work was published in Methods in Molecular Biology. Enamored by the prospects of nanomedicine and the complexities of cancer treatment, he pursued research in Dr. Lu's lab in the Pharmaceutical Sciences department. Named a Holster Scholar in 2020, his summer research project reviewed the effects of nanoparticle properties on internalization, intracellular distribution, and cytotoxicity to cancerous and healthy cells. Moving forward, Joshua will be conducting studies on nanoparticle-mediated inhibition of acute myeloid leukemia as a University Scholar. Alongside his interest in medicine and research, he is also a passionate tubist who has participated in county and state level bands throughout Maryland.  At UConn, Joshua is a dedicated member of Kidney Disease Screening and Awareness Program, the Symphonic Band, and the Peer Allies through Honors program.
To learn more about these and other nationally-competitive scholarship and fellowship opportunities, visit the Office of National Scholarships & Fellowships and click "Talk to an Advisor."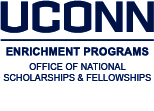 ---