The Udall Foundation awards scholarships to college sophomores and juniors for leadership, public service, and commitment to issues related to Native American nations or to the environment.  In 2020, the Udall Foundation anticipates awarding 55 scholarships of up to $7,000 each.  The Udall scholarship honors the legacies of Morris Udall and Stewart Udall, whose careers had a significant impact on Native American self-governance, health care, and the stewardship of public lands and natural resources.  UConn may nominate up to four candidates in for the Udall Scholarship in each category.  Internal applications for nomination are generally due in early January.  The following five students were UConn's 2020 nominees for the Udall Scholarship.
Emily Kaufman (CLAS '21), from Mansfield, CT, is a junior Honors student majoring in environmental studies and sociology with a minor in geographic information systems. As a member of the General Education Environmental Literacy Task Force, a Student Representative on UConn's Environmental Policy Advisory Council, a member of the Transportation and Technology Research Group, a member and subcommittee chair of UConn's Solve Climate 2030 initiative, and a UConn@COP24 Fellow, Emily has been highly engaged on campus with issues pertaining to environmental and social justice. Since 2018, Emily has served as the Co-Chair of the Undergraduate Student Government's Sustainability Subcommittee. This committee focuses on engaging students to address environmental justice issues through intersectional and creative lenses. Emily is passionate about travel and learning from other cultures. In the summer of 2018, she lived in Ecuador for two months with the Social Entrepreneurship Corps where she worked with indigenous communities as a consultant. In 2019, Emily also went on exchange at the University of Melbourne where she engaged in courses involving indigenous rights and environmentalism. Already published in an academic journal on the intersection of gender inequality and environmental degradation, Emily is currently working on a SHARE grant to understand social inequality in activism movements. Beyond the classroom, Emily sings in an all-female a cappella group, runs competitively, and spends time with her friends and family. Emily believes that the most important aspects of her activism are collaboration, passion, and empathy.
Natalie Roach (CAHNR '21), from Cheshire, CT, is a junior Honors student majoring in environmental sciences and human rights with a minor in sustainable food crop production. She is also pursuing a Master's of Public Policy through the Fast Track Program. Natalie is committed to a career in public service focused on the intersection between the environment and human rights through the power of meaningful connection and public policy. Before college, Natalie was assistant director of a nature camp, and an organizer of the Town of Hamden's annual Earth Day Celebration event. At UConn, Natalie works for the Office of Sustainability. She is organizing UConn's first annual Environmental Justice Conference through her position as co-chair of the Undergraduate Student Government's Sustainability Subcommittee. She is vice president of the student organization Revolution Against Rape, co-founder of a Rainbow Center discussion group, and a WOW leader. She spends time learning about other communities by participating in UConn's Community Outreach Alternative Breaks program. This summer she traveled to Ethiopia as part of a project that aims to help farmers facing the impacts of climate change, and has continued to work on the project during the school year. After organizing a school wide climate strike this past September, she is now representing the undergraduate student body on the President's Climate Change Working Group that was created in response to the strike. She is a recipient of the 2020 Cohen Student Leadership Scholarship for Enhancing Community, and a member of the BOLD Women's Leadership Network. Beyond UConn, Natalie is a member of the Diversity and Equity Committee of the Connecticut Governor's Council on Climate Change, as well as a member of the Connecticut chapter of the Sierra Club's Political Committee. She was also a delegate at the 2019 UN Climate Change Discussions. This summer Natalie is conducting her own research project on how outsiders can best support urban and community farming without taking control away from a community. In her free time, Natalie hikes, hangs out with her cat, enjoys her friends' artwork, and tries not to kill her plants.
Sage Phillips (CLAS '22), from Old Town, ME, is a sophomore majoring in Political Science and Human Rights with a minor in Native American & Indigenous Studies. Prior to attending UConn, Sage was among the top Native American and Indigenous students selected to participate in Dartmouth College's Native American Community program. This program ignited a passion within her and fueled her desire for social justice amongst people of color. As a member of the Penobscot Indian Nation, Sage is now one of a small contingency of Native American students attending UConn. Sage has taken on a major role in helping to expand resources available to Native American students as well as all students of color at UConn. Dedicated to social justice for her people, Sage hopes to one day pursue law school with a concentration in Tribal Law, or work within Tribal Policy focused on issues related but not limited to Education, Culture, and Land. Prior to beginning her work with the Native American Cultural Programs in the fall of 2019, Sage was selected as a UConn delegate to NCORE, the National Conference on Race and Ethnicity in America's Higher Education, attending the annual conference in May of 2019 in Portland, Oregon. Sage was recently chosen as a member to UConn President Thomas Katsouleas' Council on Race and Diversity. Her role on the council is to advocate and represent on behalf of the Native student population as well as to promote and uplift all students of color on campus. Also dedicated to the outside community while working from within, Sage is a member of the Statewide Coalition to Ban the use of Native American Mascots in the State of Connecticut, serving alongside faculty and staff from UConn, the Akomawt Educational Initiative, and Tribal Youth Council leaders from the Mashantucket Pequot and Mohegan Tribal Nations. On campus, a student assistant for the Native American Cultural Programs (NACP), Sage has presented herself among faculty members to initiate conversations fostering discussion around expanding the NACP to become the sixth Cultural Center at UConn. Sage hopes that through navigating the process of expansion and seeking out information to help NACP, her work will serve as a road map for other groups of color who also wish to have a Cultural Center. Rewarded for her work surrounding leadership, Sage was selected as a member of the Leadership Legacy Experience 2020 cohort, recognizing the University's most exceptional student leaders. Sage works to pay homage to her ancestors and continues to practice the ways of her culture through ceremony and helping to better the environment however she can, all while dedicating her efforts to UConn being at good relation with the land it stands on.
Sarah Schechter (CLAS '21), from Danbury, CT is a junior Honors student, double majoring in anthropology and environmental studies. She aspires to work as a sustainability consultant and educate city officials and citizens on climate change impacts through personalized climate action plans. She plans to do this by pursuing a master's degree in sustainability. Sarah enjoys studying climate change, specifically sea level rise and coastal flooding. Throughout the summer of 2019, she interned with the Connecticut Sea Grant College Program and UConn Extension, during which time she created a video about coastal and inland flooding in Connecticut. This video is part of an online series that Sarah has continued to work on through an independent study under the instruction of Dr. Juliana Barrett. Sarah will continue the series this summer with a video about climate change. Also, as a member of EcoHouse for two years, Sarah also took part in many environmental activities around campus such as improving the Hillside Environmental Education Park, assisting at Green Game Days, and teaching students about food waste during the Earth Day Spring Fling. Sarah took part in UConn's Sustainable Amsterdam Program in summer 2018, where she developed a video about foreign food sustainability practices. She also had the opportunity to attend COP25 in Madrid, Spain during fall 2019, where she was able to interact with environmentally concerned individuals on an international level. She also enjoys running with UConn's running club and hiking.
Harry Zehner (CLAS '21) is a junior political science major who was raised in New Haven, CT. He was a lead organizer of UConn Fridays For Future, an activist group which, through a mass strike and sit-ins, forced the university to stop the construction of a planned new natural gas plant. He also serves on the President's Working Group on Climate Change, as an intern at the UConn Office of Sustainability and as the Opinion Editor for the student-run daily newspaper, The Daily Campus. Harry works on numerous policy ventures outside of school, ranging from being a lead policy adviser on a mayoral campaign to working for two sustainability-focused NGOs. As a University Scholar, Harry is currently researching, designing and piloting an internal carbon proxy price for the University of Connecticut in order to internalize the externality of carbon emissions in large capital projects. After UConn, Harry intends to pursue a Master's in urban planning with the goal of continuing his local advocacy efforts as a city planner committed to democratizing power, fighting against gentrification and securing transit equity, affordable housing, environmental justice and good quality of life for all.
To learn more about these and other nationally-competitive scholarship and fellowship opportunities, visit the Office of National Scholarships & Fellowships and click "Talk to an Advisor."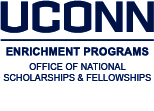 ---