Operating in over 160 countries worldwide, the Fulbright Program is the flagship international educational exchange program sponsored by the U.S. government and is designed to increase mutual understanding between the people of the United States and the people of other countries. The primary source of funding for the Fulbright Program is an annual appropriation made by the U.S. Congress to the U.S. Department of State, Bureau of Educational and Cultural Affairs. Participating governments, host institutions, corporations, and foundations in foreign countries and in the United States also provide direct and indirect support. Recipients of Fulbright grants are selected on the basis of academic or professional achievement, as well as demonstrated leadership potential in their fields.
The Fulbright U.S. Student Program provides grants for individually designed study/research projects or for English Teaching Assistantships. During their grants, Fulbrighters will meet, work, live with and learn from the people of the host country, sharing daily experiences. Through engagement in the community, the individual will interact with their hosts on a one-to-one basis in an atmosphere of openness, academic integrity, and intellectual freedom, thereby promoting mutual understanding.
Congratulations to UConn's 15 Fulbright Semi-Finalists* and five Fulbright Finalists**:
Sara Ailshire (Doctoral Student, Anthropology) Finalist for a Fulbright Research Grant to India. Sara will conduct multi-sited ethnographic research in three Indian cities, analyzing the role identity plays in determining what strategies women's support groups, non-governmental organizations (NGOs), and grassroots activists use to confront the problem of mistreatment of women during childbirth. Sara was previously awarded a 2016 Critical Language Scholarship, a 2017-2018 American Institute of Indian Studies Academic Year Language Fellowship, and a 2019 UConn Human Rights Institute Graduate Research Grant. Upon her return she will complete her dissertation and pursue a career in higher education.
Jiana Baker (CLAS '20) Semi-Finalist for the Fulbright UK Study award to University of Nottingham. Jiana is a physiology and neurobiology major with an interest in nutrition and exercise science. As a candidate for the Applied Sports and Exercise Medicine MSc program, she plans to investigate mechanisms to increase physical activity in the American Black community in order to reduce the overall risk for chronic illnesses. Study in the United Kingdom interests her because of the significantly lower rates for diabetes that are potentially caused by behavioral differences that could be translated into recommendations for health interventions. A background in exercise medicine will allow Jiana, as a future physician, to educate her patients on how to incorporate regular exercise into their lives to maintain their health.
Lana Delasanta (Ph.D. student, Ecological Psychology) Semi-Finalist and Fulbright Alternate for a Research grant to Canada. Lana completed her undergraduate studies at UConn with a major in Cognitive Science and a minor in Neuroscience. Her research interests led her to stay at UConn to pursue her graduate degree in Psychology to investigate the effect of music performance and group dynamics on social cohesion and perception. With her project, Lana would have the opportunity to collaborate with top music researchers at the LIVELab under the direction of Dr. Laurel Trainer. She will be able to explore innovative experimental methods to examine how group music performance affects perception and action through group dynamics and synchrony.
Rebecca Ercolani (BUS '16)  was a Semi-Finalist for a Fulbright English Teaching Assistant Grant in Bulgaria.
Elizabeth Ellenwood (MFA '20 candidate) Finalist for a Fulbright Research grant and also a recipient of the American Scandinavian Foundation grant recipient to Norway. Elizabeth will work collaboratively with an environmental chemist and a marine biologist to produce scientifically informed photographs focusing on ocean pollution. Ellenwood uses her artwork to visually explore and bring attention to critical environmental issues. Her recent solo exhibition at The Alexey von Schlippe Gallery was supported by the Connecticut Sea Grant Art Support Award and University of Connecticut's Zachs Award. Elizabeth is also a recipient of a Denis Roussel Merit Award. Her work has been exhibited at The Newport Art Museum, Panopticon Gallery and The Vermont Center of Photography. Ellenwood received a Bachelor of Fine Arts in Photography from The New Hampshire Institute of Art and is a candidate for a Master of Fine Arts in Studio Art from the University of Connecticut.
Grace Felten (Ph.D. Candidate, Social Work) Semi-Finalist for a research grant to Greece. Grace's background working with NGOs and her social work field practicums at the United Nations and Global Network of Women Peacebuilders inform her research. Her dissertation is an exploratory case study that looks to examine how forced migration affects the reproductive health of refugee women in Greece and to gain insights into the experiences of humanitarian actors trying to support refugees in severely constrained situations. As a future professor of social work, she hopes to continue partnering with international NGOs and UN agencies in efforts to better prioritize comprehensive reproductive health in migration settings.
Megan Go (CLAS '20) Finalist for Taiwan, studies Psychological Sciences, Communication and International Studies. During her time as an English Teaching Assistant, Megan hopes to dive deeper into Taiwanese culture and reconnect with parts of her cultural heritage. Through this experience, she is looking forward to broadening her horizons by creating interpersonal connections with locals and seeing everything the country has to offer. Upon return to the United States, Megan plans on pursuing a Master's in Education to work with students from a variety of backgrounds.
CarsonLee Harper (CLAS '20) Semi-Finalist for a Fulbright Study award to Iceland. CarsonLee is a double major in English and History with a minor in medieval studies, and plans to pursue a Master's degree in Viking and Medieval Norse Studies at the University of Iceland. She will be able to look at medieval Scandinavian culture from an interdisciplinary lens, examining literature, history, religion, and language during the course of a two year program. She will have access to experts in the field and the largest collection of medieval manuscripts to pursue research on the cultural dispersion of information and beliefs through the lens of the Vikings. This program will provide the next step toward her career goal of becoming a professor of medieval studies.
Shadia Heenan (MFA '20 candidate) Semi-Finalist for Creative Arts award to India. Shadia is a multidisciplinary artist working in performance and video, mapping family archives, personal histories and polarized identities. Shadia is the recipient of the Crandall-Cordero Fellowship, the Barbara Bullitt Christian Memorial Award and is a 2020 US Fulbright semi-finalist. Her work has been exhibited in shows including Plexus Projects New York, Artspace Hartford, Atlantic Wharf Gallery Boston, and the Multicultural Caucus for the Society of Photographic Education in New Orleans. She received her BFA, with a minor in Psychology, from the Hite Art Institute at the University of Louisville. Currently, she is a Master of Fine Arts candidate at the University of Connecticut.
Addison Kimber (CLAS '20) Semi-Finalist and Fulbright Alternate for a Fulbright UK Study award to the University of Bristol. Addison is a Political Science and Biology double major who will pursue the Health, Law, and Society LLM degree. Studying in the U.K. will allow her to examine how the National Health Service addresses healthcare inequality. The Balancing Best Interests in Health Care, Ethics and Law (BABEL) research lab studies healthcare decisions for individuals who cannot decide on their own care. She has a particular interest in learning how healthcare culture impacts treatment, which aligns with her future career in health policy.
Rick Laguerre (Ph.D. Candidate, Industrial/Organizational Psychology) Semi-Finalist for a Fulbright Research grant to Australia. Rick is an Occupational Health Psychology (OHP) Fellow who researches factors (e.g., attitudes, motivations) important for successful aging and longevity at work. He specializes in methodological issues and how processes unfold over time. His goal is to integrate knowledge about organizational systems to show how organizations and people can best align to succeed. In partnership with Curtin University and the ARC Centre of Excellence in Population Ageing Research (CEPAR), he intends to do dissertation work in Perth, Western Australia.
Emmalyn Lecky (CLAS '20) Finalist for the English Teaching Assistant grant to Latvia. Emma is a double major in Psychology and Biology with a passion for teaching, learning and Latvia. Working as an ETA would bring new challenges and opportunities that would help her to continue to develop her skills in the classroom. With a Latvian family heritage, having grown up listening to her grandmother's stories about the country and the courage of its people, she will have the opportunity to learn about the culture and people of Latvia, and to polish her teaching skills in anticipation of her future career teaching science as a university professor.
Xinyu Lin (ENG '20) Semi-Finalist for a Fulbright Study grant to Australia. Xinyu is a civil engineering major with a passion for urban studies, climate justice, and inclusive spaces. She is interested in learning how urban planning & design can be done through a climate justice, community-based lens to respect people, existing systems, and the environment. Xinyu hopes to use her experiences at the University of Melbourne to become a more informed & holistic community advocate and urban planner.
Kelly Mahaffy (CLAS '24) Semi-Finalist and Fulbright Alternate for a Study grant to the UK/Strathclyde. She is a second year M.A./Ph.D. student in English, studying contemporary transatlantic literature with an eye towards genre and form, and her work primarily focuses on cognitive approaches to literature and film. Through this research interest, Kelly has worked in psychology labs focused on reading development and dysfunction, become an active member of the cognitive science department on campus, and has had the opportunity to present her work at multiple national and international academic conferences. Kelly is also a leader in the Digital Humanities group on campus. She founded and currently runs the Digital Humanities Living Toolbox working group for graduate students and faculty to help those on campus interested in DH learn the practical skills needed to complete a project. In her free time, you can find Kelly trying to cook really fancy recipes or watching any St. Louis sports teams play.
Mark Stukel (Ph.D. student in Ecology & Evolutionary Biology) Finalist for the Fulbright Research grant to New Zealand. Mark is originally from Naperville, IL, and received a Bachelor of Science in Biology from Hope College. Mark is studying the evolutionary relationships and geographic ranges of cicadas and how they can help us understand the processes behind the origin and spread of the world's biodiversity. He will be working with collaborators at the University of Auckland and Landcare Research in New Zealand to learn cutting edge research methods to uncover ancient hybridization in the evolutionary relationships of New Zealand cicadas and to reconstruct their past species ranges. In addition to his research, Mark will be conducting workshops on cicada biology for school children and the local community. After returning to the United States, he will finish his dissertation on the evolutionary relationships and geographic distributions of world-wide cicadas using the methods learned in New Zealand.
* Fulbright Semi-Finalist – applicants who have been recommended by the National Screening Committee to the Fulbright Commissions in-country
** Fulbright Finalist – applicants who have been notified that they've been offered grants, but who have not signed their Terms of Award or provided medical documents
To learn more about the Fulbright U.S. Student Program, make an appointment today to meet UConn's Fulbright Program Advisor Ms. LuAnn Saunders-Kanabay, or visit the Office of National Scholarships & Fellowships and click "Talk to an Advisor."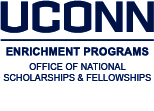 ---