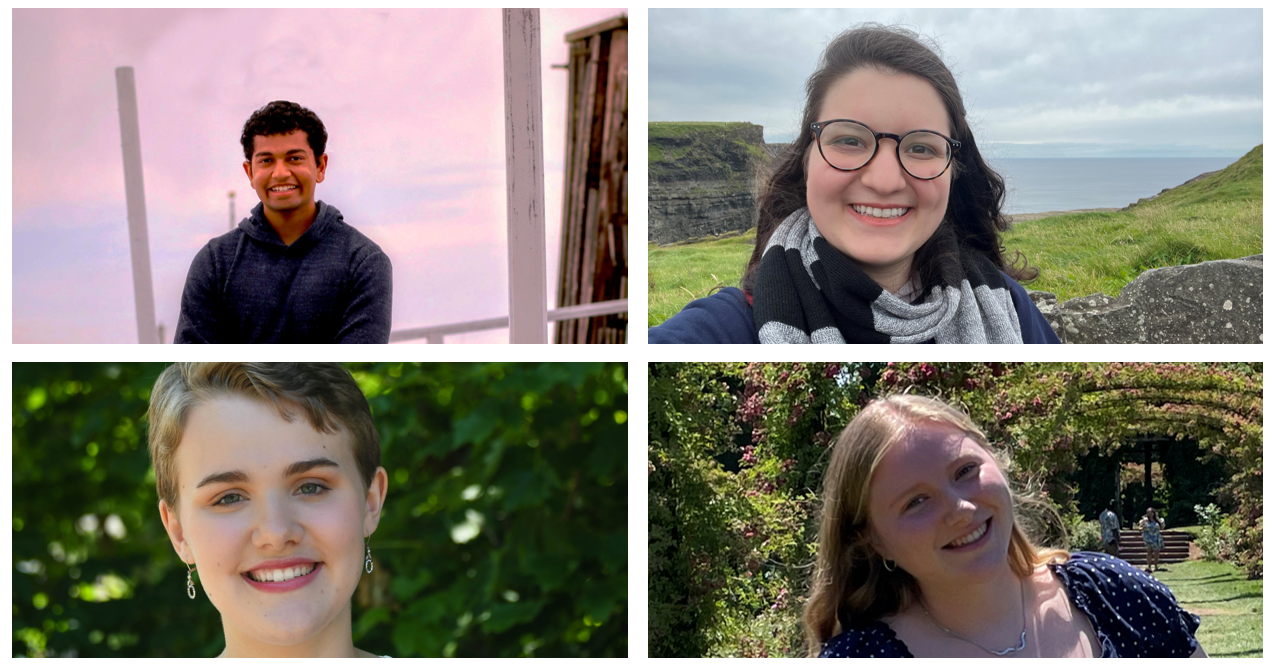 ***
The Office of National Scholarships & Fellowships is pleased to introduce UConn's 2022-23 nominees for the Rhodes, Marshall, Mitchell, and Churchill Scholarships.  Congratulations to these outstanding young leaders.
Neal S. Krishna (CLAS '23), from Boston, MA, is a senior studying English, physiology & neurobiology, and astrophysics. A Holster Scholar, Werth Innovator Fellow, and member of the 2021 Leadership Legacy cohort, Neal is fascinated by cross-disciplinary areas of study and the intersected spaces where one field transitions into another. Neal is the Editor-in-Chief of Nutmeg Publishing (c. 1914), the University of Connecticut's student-run Tier-III organization that produces an award-winning annual yearbook and a themed magazine. In the classroom, Neal appreciates teaching and mentorship, and he has greatly enjoyed his time as a Teaching Assistant for courses in both physiology & neurobiology and education. Neal finds deep joy in studying human interaction and in treasuring the chance moments that influence our everyday lives. Neal is an advocate for empowering communication, meaningful reflection, and the importance of culture and background in shaping one's perspectives. In his spare time, Neal enjoys bouldering, writing creative nonfiction, listening to indie music, and taking long walks in nature. Neal intends to pursue an MD after finishing his bachelor's degree, to study and eventually practice humanistic medicine.  Neal was nominated for both the Rhodes and Marshall Scholarships.
Elisa Shaholli (CLAS '23), of Wolcott, CT, studies English and economics at the University of Connecticut under a national Stamps Scholarship. She is passionate about the social experience of disability and accessibility, combining both Economics and Humanities as a way to understand, serve, and work within disability and marginalized communities. She has worked in a range of different spaces targeting disability issues, from nonprofits like the Juvenile Diabetes Research Foundation, healthtech startups like InquisitHealth, public agencies through work at the Administration for Children and Families' Office of the Chief Technology Officer (CTO), and through research under the UConn Holster Scholarship, IDEA Grant, and University Scholar program. Her work is featured in the international Disability Studies journal Disability Studies Quarterly and at the International Association for the Study of Irish Literatures (IASIL). A 3-time Critical Language Scholar (CLS) from the U.S Department of State, she's always open and excited to talk about different cultures and languages.  Elisa was nominated for the Mitchell Scholarship.
Sarah Marze (SFA '23), from Canton, CT, is an Honors student majoring in music composition and vocal performance. She plans to pursue a career that combines composition, conducting, performing and teaching – her first step being to pursue a Master's degree in composition.  In 2019, Sarah was selected as a Holster Scholar, completing her original song cycle, "Songs of Salem, 1692," about the Salem Witch Trials. She is the president and co-founder of a student organization, the UConn Composer-Ensemble Collaboration, which has produced three concerts of student compositions. She sings with the UConn Chamber Singers and is the assistant conductor of Festival Chorus. She is also a member of the Music Student Advisory Council and is employed as a Choral Scholar with Storrs Congregational Church on campus. This past summer, she received a UConn IDEA Grant for her project "Let Us Sing: Contemporary Art Songs for Young Singers," which supported the composition of a book of six art songs on which she collaborated with the Connecticut Poetry Society. In addition to her IDEA Grant performance, other recent performance credits include singing with the UConn Orchestra for the Concerto Competition Winners' Concert, as well as with UConn Opera in Menotti's opera "The Telephone." Her music can be found at www.sarahmarze.com. In her free time, she can be found either sitting at a piano or crocheting with her friends.  Sarah was nominated for the Marshall Scholarship.
Elizabeth Carrizzo (ENGR '23), from Brookfield, CT, is a STEM Scholar studying biomedical engineering. She is planning on pursuing her master's upon graduation, and then obtaining a position in the biomedical industry where she can also participate in research. She has worked in Dr. Yanlin Wang's lab since the summer of 2022 studying chronic kidney disease and its associated inflammatory pathways. Her project focused on the effect of chemotherapeutic drugs in the subsequent damage of the kidney. During the summer of 2021, Elizabeth worked at vaccine clinics where she traveled around Connecticut and handled the data of those being vaccinated. Outside of her research, Elizabeth is an Honors Guide for Peer Success and works at the UConn Recreation Center as an Administrative Assistant. She is also a member of Phi Sigma Pi, a national honor fraternity, and enjoys participating in HuskyTHON on campus. In her free time, she enjoys reading, listening to music, and exploring new places.  Elizabeth was nominated for the Churchill Scholarship.
To learn more about these and other nationally-competitive scholarship and fellowship opportunities, visit the Office of National Scholarships & Fellowships and click "Talk to an Advisor."